In the past year, Graham + Fisk's has seen huge growth in the e-commerce side of their business. Due to other successful holiday-themed launches, they wanted to release something special for Valentine's Day. This is a Valentine's Day themed 8-Pack box that holds 4 cans each of their Red wine and their Rosé wine with bubbles.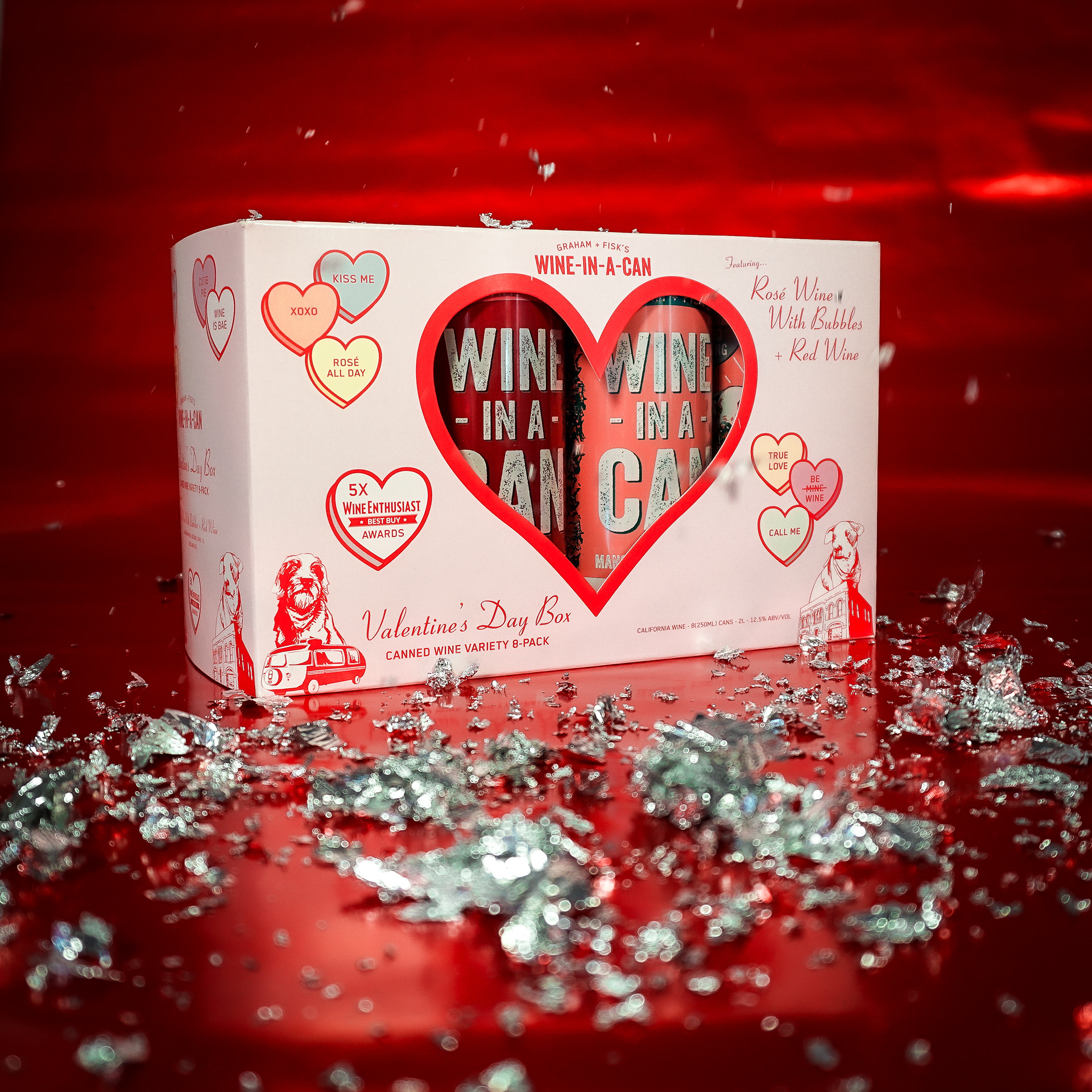 For this box design, I wanted to draw on some really classic elements with my font choice and a really classic "candy heart" color pallet. My font choice is very similar to the "I love Lucy" title font which I felt gave this box a more elevated and special feel than some of the other more casual designs I've executed for the G+F brand. The box colors were also drawn from the "Mendl's" cake boxes from Wes Anderson's Grand Budapest Hotel - a beloved favorite of mine. 
Initial Ideas

Originally, Firehouse Can Co. was looking for packaging solutions for both of their canned wine brands, MANCAN Wine, and Graham + Fisk's.

 It was here that I developed a stacked 2-Pack for MANCAN, and originally wanted to execute a heart shaped wine box for Graham + Fisk's. After pricing out these options with vendors and looking at the timelines, it was clear that we needed to pivot and proceed with the stronger design in a new concept.
There is a heart shaped cut-out window on the front of the box so that a customer can see inside to the shiny metallic cans. It was also a lot of fun coming up with new sayings for the candy heart details that were more "wine themed". 
On the back of the box, customers can get more info on the different kinds of wine inside. There's also an area for someone to personalize the box with a "To and From" note like a traditional Valentine. 
For the product image, I wanted the design of the box to extend to the full product square. The pink on pink with a red border also helps this item stand out in the Graham + Fisk's online store. 
Graham and Fisk really love to be involved as personalities in the brand, and Fisk especially is always on board to get dressed up for a funny photo. I definitely took advantage of this opportunity to put him in a cupid costume and give their audience a good laugh! 
The amount of comments, emails, and messages the brand received as a result of this image was huge! SO many people found humor in this. We received countless comments about Fisk's chest hair. 
These images were taken to help promote the Valentine's Day Box in Facebook Ads, in social media posts, and in email marketing campaigns.